The long, drawn-out Tadarida migration Fall 2017.  Play videos below this screenshot to see bats moving south from the Texas Hill Country over a three and a half week period from 24 Oct 2017 to 18 Nov 2017.
The first round of Hill Country migration appears to have been triggered by a cold front on 24 Oct 2017(UTC) and started on 26 Oct 2017 (UTC).
At first we wondered if this was normal foraging, taking advantage of the NW wind at only 5 mph.
But after monitoring over the next few weeks, we think many bats did indeed start leaving on 26 Oct 2017 (UTC).
Much colder weather seemed to stop southward movement from 28 Oct 2017 to 31 Oct 2017 (too cold to fly?)
Weather warmed quite a bit after that, showing lots of bats in the east. Roosts in the western Hill Country (Frio, Devil's Sinkhole, and Fern) had smaller emergences over few days, but seemed to bounce back periodically (newly arriving migrants?).
Huber, Old Tunnel, and Bracken stayed large for a few weeks, either from retained summer residents or from newly arriving northern migrants.
The Hill Country (Huber Old Tunnel and Devil's Sinkhole) mostly had cleared out by 10 Nov 20217.
Did Bracken bats move  to Frio 12Nov2017 UTC as start of their migration? Storm may have suppressed Bracken numbers; we'll see.
Many colonies seem to split during the early part of migration, with some heading in a migratory direction, others in a foraging direction. More so than during the summer.
This year's migration seems to be playing out over a 3-1/2 -week period.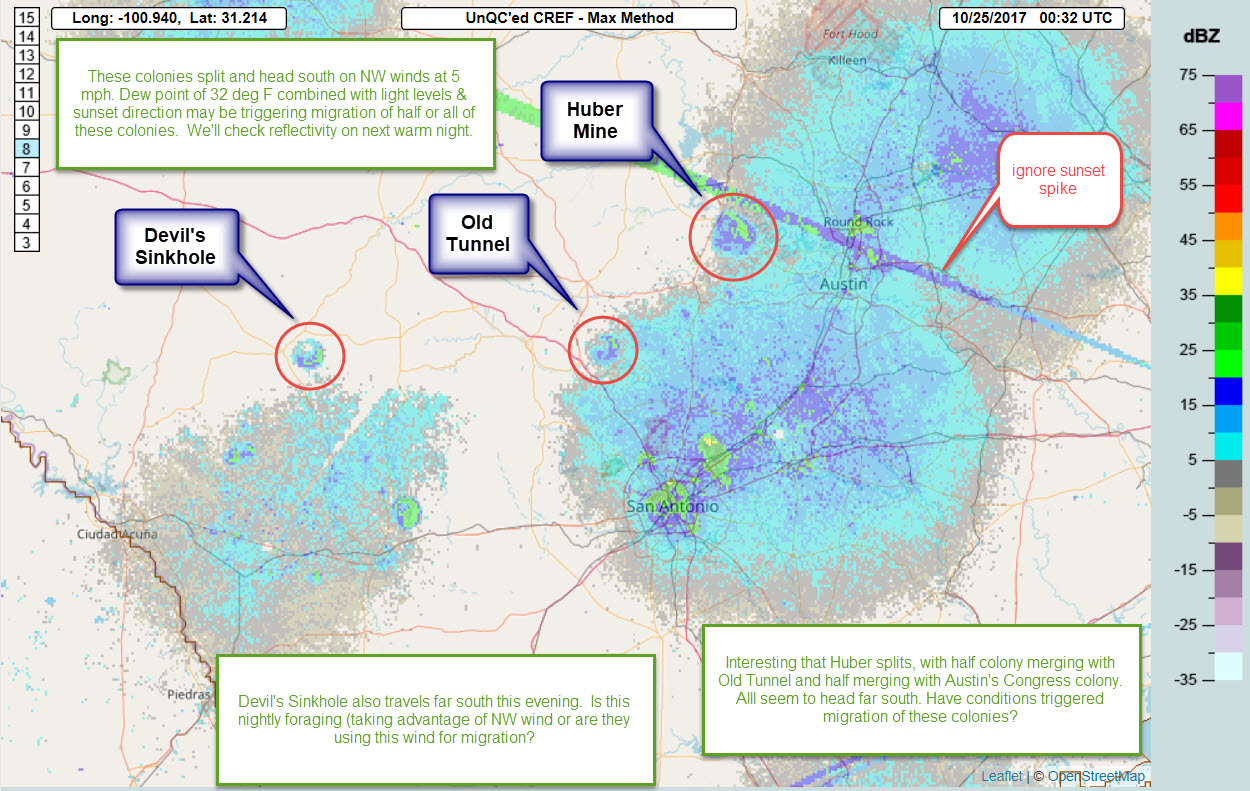 First wave of migration below
The next night, 26Oct2017, 1/5 as many bats at Devil's Sinkhole, 1/2 as many at Huber and Old Tunnel,
but surges occurred periodically in most roosts over the next 3 weeks.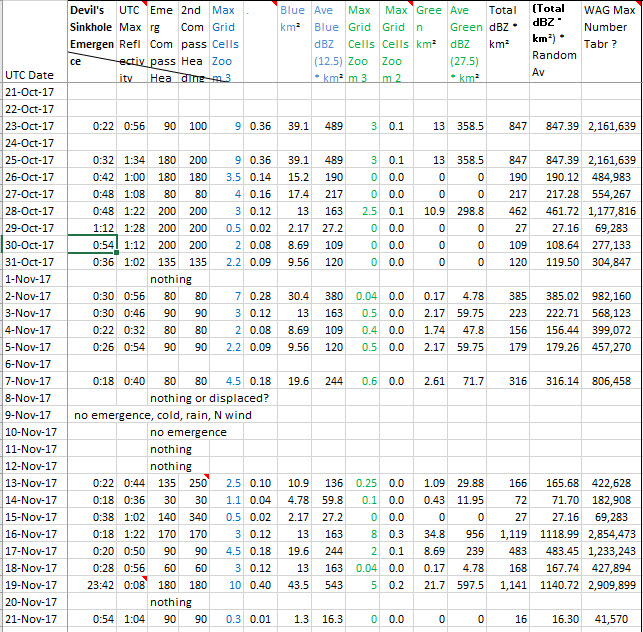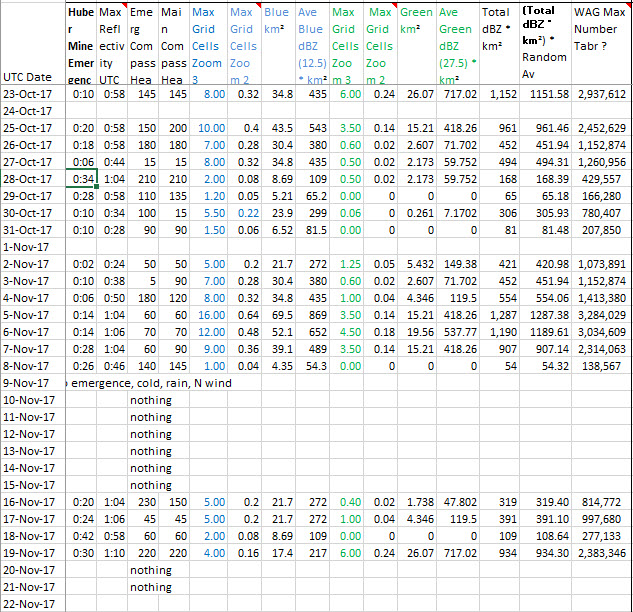 Here's Bracken data: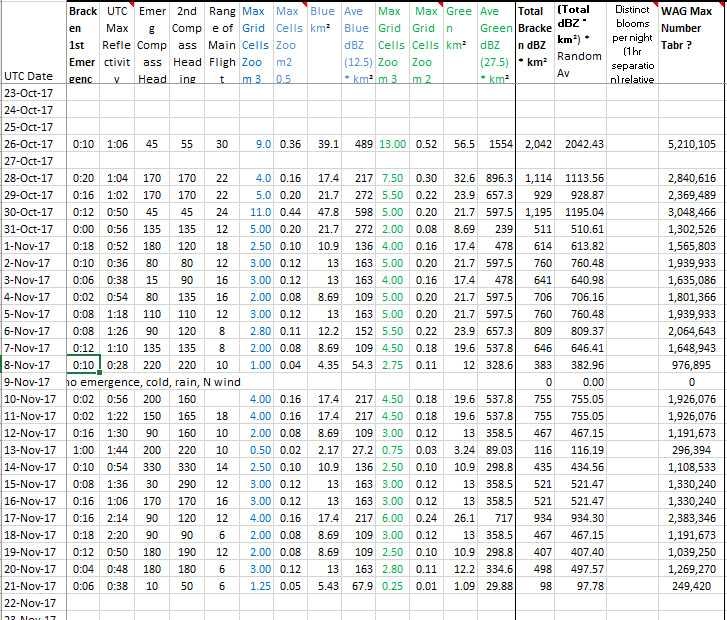 Here's more migration activity. Again, half (or more) of Huber bats, and what looks like all remaining Devil's Sinkhole bats head SSW in definite migration pattern.  Very few from Old Tunnel, but what few emerged headed in a migratory direction.

And here's the same night, 28OCT2017 UTC showing remaining Devil's Sinkhole bats heading south for the winter.

As temps at emergence warm a little, more bats emerge. More than expected at Huber. Are these the remaining summer residents or newly arrived migrants from north?

Next warm night shows activity at Huber, Old Tunnel, McNeil, Congress, and Bracken, but Devil's Sinkhole had very few bats fly.

After no flights recently (see chart below), the last ~200k of the Frio Cave bats head south to migrate through Eagle Pass.
The Frio Cave flight starts just north of Uvalde and heads southwest.

Here's the times, direction, and reflectivity  for Frio from the first week or so:


First warm night brings out more bats than previous chilly nights> Still another 200k from Frio that could have been hunkered down.

Migration on hold with recurrence of warm weather

Still on hold with possible exception of half Old Tunnel bats

Cold weather Oct 28-30 UTC
Warm weather Nov 3-5 UTC
Below, a cold front pushes through just before emergence at Bracken.
No bats appear to have emerged early to ride it south.

Here's the night's emergence soon after frontal passage.

No migratory movement noted even after storms passed a few hours after normal flight time

Second night of cold weather triggers Frio bats to resume migrating. Seems like 450k headed southward. Will they return?
Some Bracken bats also appear to be leaving. Stuart makes no obvious move. Nothing from Devil's Sinkhole, Old Tunnel, or Huber, or anywhere else north of Wimberley.

Again Frio bats headed SW in migratory direction, likewise Stuart, but far fewer. Still lots of bats at Bracken. Nothing from Devil's Sinkhole or Huber.
Tiny bunch at Old Tunnel.

Frio bats appear to head SW past (hopefully around or above) the Anacacho Wind Farm

Most of the Hill Country seems done. Nothing except at Fern and a few at Old Tunnel. Still a million or so at Bracken, but none at McNeil or Huber. Congress, surprisingly, still has ~90k.

Frio much larger than expected and Bracken diminished; possibly from storm but also possible some moved to Frio as part of migration.

Still lots of bats at Bracken and Congress. Half of Frio again heading SW in migratory direction.

Nothing from Congress on this warm evening. Did they leave last night? Radar does not show them leaving.
McNeil and Huber have had no emergences since 08 Nov 2017 UTC.
Devil's Sinkhole appeared to be done at that same time but had a surge from 13 Nov 2017 to 15 Nov 2017, now next to nothing.
Still lots of bats at Bracken Frio and Fern.

The bats seem to be moving in stages with parts of the colonies moving in separate increments to more SW roosts.
Big surprise from Devil's Sinkhole!

Surge from Fern, fewer at Foster St and Devil's Sinkhole

Way fewer at Devil's Sinkhole, surge at D'Hanis – did they move there?

Surely this cold front pushed the last of the Mexican free-tailed bats southward on their annual migration.
This video shows Fern Cave, two waves of bats from Devil's Sinkhole, Frio, and Huber all showing massive numbers of bats moving in a migratory direction.

Here's a black-background view of the same night.

Sure enough Bracken is a day behind, as usual. The majority of all other colonies seem to have left.
We'll see on the next warm night, if there is one.