We'd be happy to do a presentation for your group!
In addition to our Congress Avenue Bridge program (click to follow link for latest radar info and emergence times):
We also bring live local bats to our talks and for large groups, we use a close-focus video camera to show the features of the tiny native bat species up close and personal while maintaining a separation of audience and wild animals. We supply the video camera (actually a document reader) that we will connect to your AV equipment and big screen through an HDMI port. We ask you to supply a projector and screen and an IT person to hook up our laptop to your AV equipment.
We use a multi-media presentation to talk about the benefits of bats and how to live in harmony with these wonders of the natural world and can talk for up to an hour. We allow groups to walk past the bats, for a closer live look, as we hold them on the other side of our table as the group leaves.
We charge $250 for this type of program for groups of under 100.  Discounts available for under-served and under-funded schools.  Corporate event fees may be $500.  Contact us for details.
Our calendar fills up fast in the fall season and slots are limited at that time of year.  Bats are worth learning about at all times of year, not just at Halloween!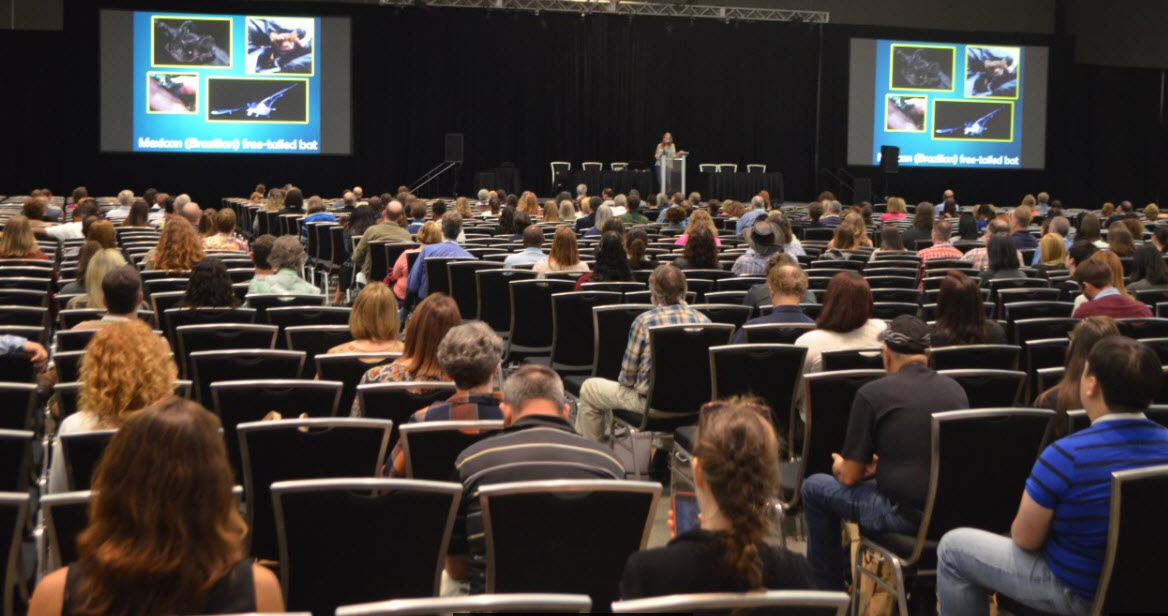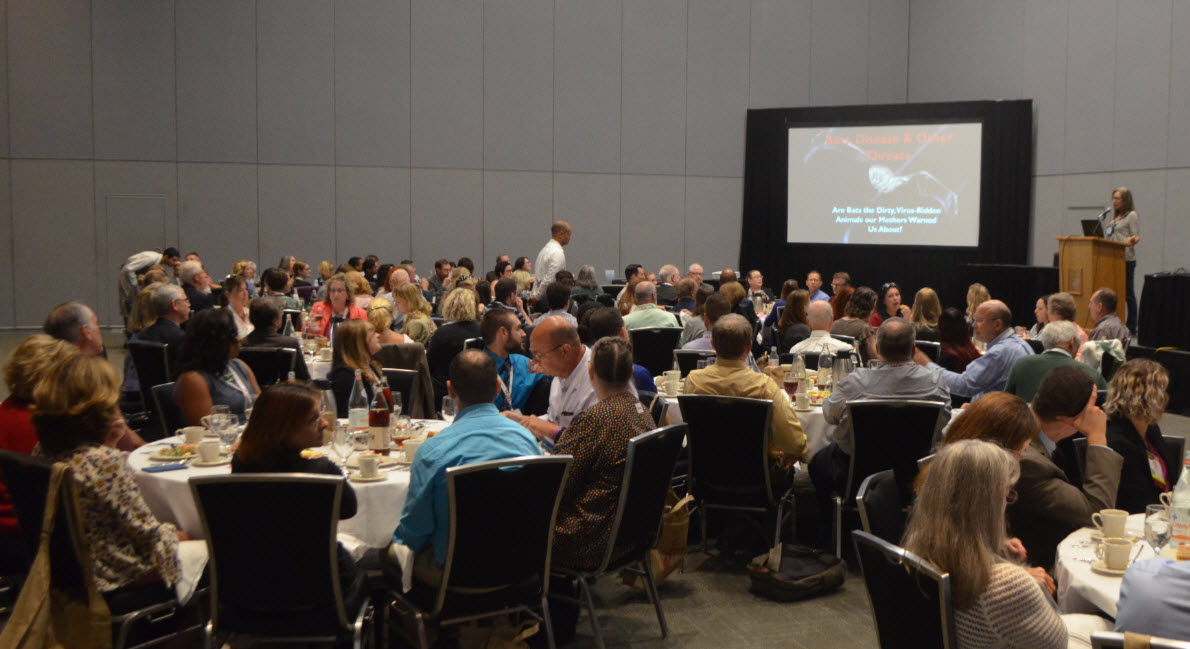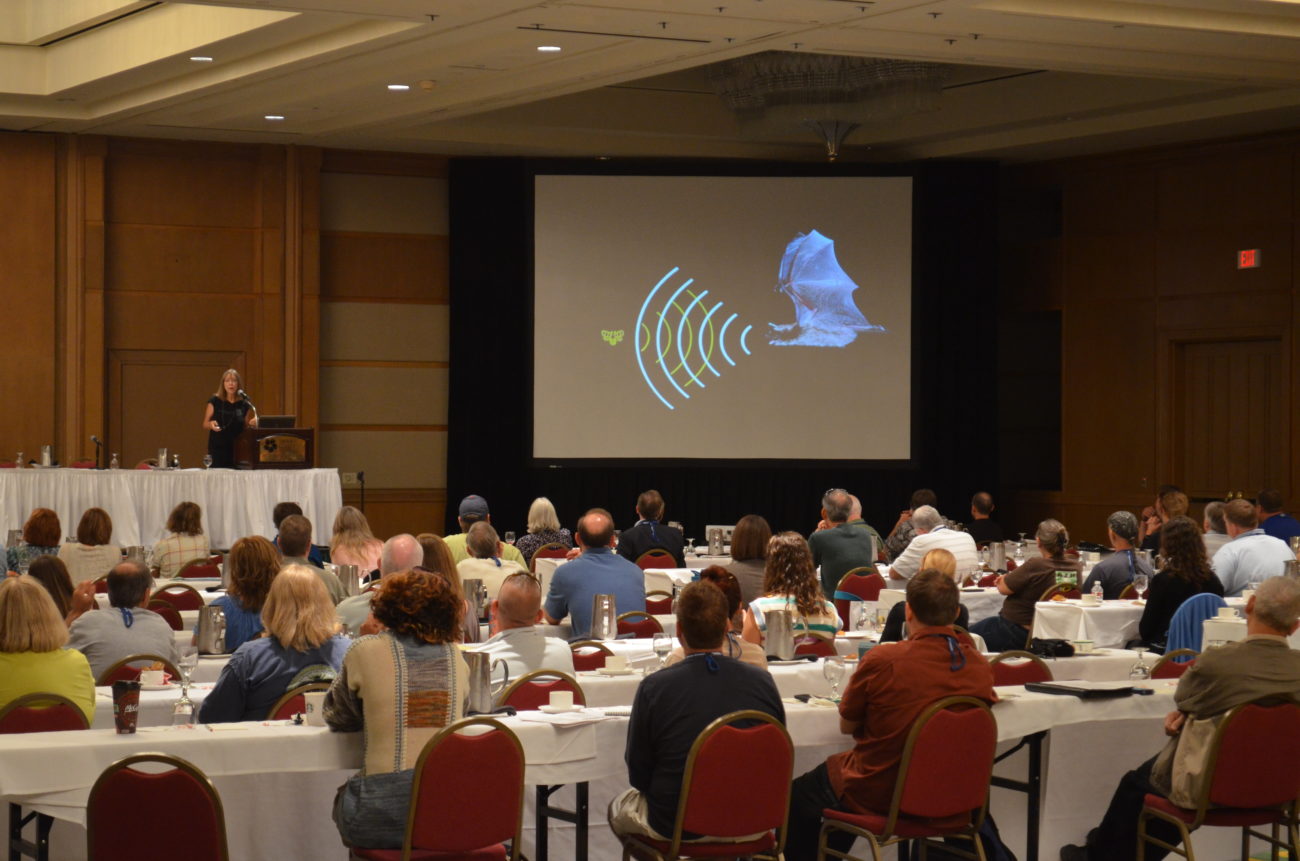 Here are some of the programs we conducted during the past few months:
October 2017
Girls School of Austin
The Texas Wildlife Association (TWA) Distance Learning (5,000 children) Bats-A-Billion Halloween Presentation
Bertha Sadler Means Middle School Presentation
Texas Campaign for the Environment Training Session
Blair Woods Audubon Nature Days
The Thinkery
The Metropolitan Breakfast Club at Darrel K. Royal Memorial Stadium
Wild Birds of Lakeway Presentation
Box Presentation for educational lunch hour
National Fish and Wildlife Foundation WNS Grant Announcement in Houston
The Round Rock Newcomers Club
Rotary Club Bat Cruise to Congress Avenue Bridge on Lady Bird Lake
AALAS 68th National Meeting – Committee for Technician Awareness and Development – 600 Techs and Vets
Goodwater Master Naturalists Training Session
September 2017
Summit Elementary Day of Flight
Austin Zoo Homeschool Day
Austin Nature Center Teacher Development Training
Austin Nature Center Masters of the Night Exhibit Presentation
Hot Science, Cool Talks tabling prior to Lemurs of Madagascar, at University of Texas Austin
Bill Oliver's Kid's Earth Day Festival at Barton Springs
South Austin Rotary Club Presentation
Cub Scout Presentation
Brushy Creek Bat Festival
August 2017
Colorado River Alliance Board visit to ABR
Lady Bird Johnson Wildflower Center Nature Nights
NEPRIS Presentation – All About Bats